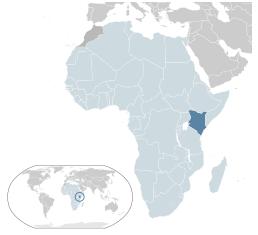 Location of Kenya (dark blue)
– inAfrica (light blue & dark grey)
– in the African Union (light blue)s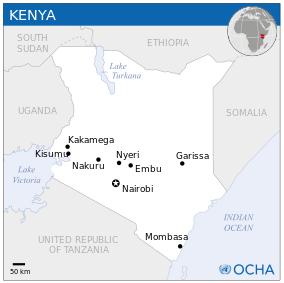 Kenya (/ˈkɛnjə/ or /ˈkiːnjə/), officially the Republic of Kenya, is a country in the African Great Lakes region of East Africa. Its capital and largest city is Nairobi. Kenya lies on the equator with the Indian Ocean to the south-east, Tanzania to the south, Uganda to the west, South Sudan to the north-west, Ethiopia to the north and Somalia to the north-east. Kenya covers 581,309 km2 (224,445 sq mi) and has a population of approximately 44 million as of July 2012.
Kenya has a warm, humid climate along its Indian Ocean coastline, with wildlife-rich savannah grasslands inland towards the capital. Nairobi has a cool climate which becomes colder closer to Mount Kenya, , which has three permanently snow-capped peaks. Further inland, there is a warm and humid climate around Lake Victoria, and temperate forested and hilly areas in the western region. The northeastern regions along the border with Somalia and Ethiopia are arid and semi-arid areas with near-desert landscapes. Lake Victoria, the world's second largest fresh-water lake and the largest tropical lake, is situated to the southwest and is shared with Uganda and Tanzania.
Capital
and largest city

Official languages

Legislature

Independence

from the United Kingdom

12 December 1963

Republic declared

12 December 1964

Total

581,309 km2 (49th)
224,080 sq mi

Water (%)

2.3

2013 estimate

44,037,656(31st)

2009 census

Density

67.2/km2 (140th)
174.1/sq mi
2012 estimate

Total

Per capita

GDP (nominal)

2012 estimate

Total

Per capita

Gini (2014)

42.5
medium ·48th

HDI (2013)

0.535
low ·147th

Currency

Time zone

Summer (DST)

not observed (UTC+3)

Date format

dd/mm/yy (AD)

Drives on the